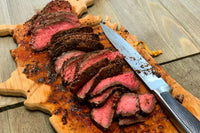 Outdoor Cooking: Simplified
No guesswork necessary! Pair the easy tutorials available from smoking-meat.com and Jeff's perfected all-purpose barbecue sauce and rubs, and serve up world-class BBQ in your own backyard. 
Shop Now
Customer Reviews
Great Deal Great Product!

I real do like Jeffs Sauce and his Rubs as another great chef says they bring you to Flavor town ! This wasn't the first time buying and it wont be the Last ! Thank you !

Bill B.
Great stuff

Second purchase. This was a gift. I love the rubs and sauce so I decided to share it.

John J.
Well Done!

Have only used the original rub and BBQ sauce on some ribs cooked on my pellet grill. My wife said they were the best I had ever cooked and she generally prefers no sauce.

Dennis M.