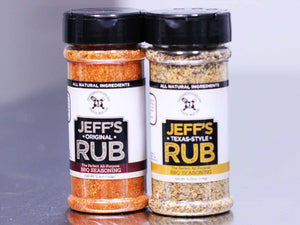 This is a full case of rubs containing 12 bottles of the original rub and 12 bottles of the Texas style rub. (24 bottles total)
Jeff's Original Rub
Introducing Jeff's Original Rub, the ultimate blend of sweet and spicy flavors that will elevate your grilling game to the next level! Low on salt and made with the highest quality ingredients, our rub is perfect for any cut of meat, from brisket to ribs to chicken.
With a perfect balance of sweetness and heat, Jeff's Original Rub will enhance the natural flavors of your meats, vegetables, and even your favorite snacks. It's perfect for grilling, smoking, roasting, and even as a seasoning for popcorn or roasted nuts.

Our rub is incredibly versatile and can be used on just about anything. Whether you're cooking up a rack of ribs, a juicy steak, or a plate of vegetables, Jeff's Original Rub will take your dish to the next level.

But don't take our word for it – try Jeff's Original Rub for yourself and taste the difference. You won't be disappointed!
So why wait? Order a case today and experience the mouthwatering flavor that everyone is talking about.
Texas Style Rub
Looking for the perfect seasoning to take your grilling to the next level? Look no further than our Texas Style Rub!
Our unique blend of herbs and spices captures the bold and smoky flavors of Texas BBQ, with just the right amount of kick to make your taste buds sing. Whether you're grilling up some juicy steaks, slow-smoking some succulent ribs, or adding some flavor to your veggies, our Texas Style Rub is the perfect addition to any dish.
Handcrafted in small batches using only the finest ingredients, our rub is free from artificial preservatives, fillers, and MSG, ensuring a pure and authentic taste every time. And with its versatile flavor profile, it's perfect for any occasion, from backyard cookouts to fancy dinner parties.
So why settle for bland and boring when you can add some Texas-style flavor to your next meal? Grab some of our Texas Style Rub today and take your taste buds on a wild ride!
Note: This item ships FREE to you.
Note: If you are interested in becoming a vendor, send us an email and we will get back with you!